This recipe is one of my own creations. I was trying to get crafty with some leftover ingredients from previous baking endeavors, and I came up with this super quick and easy recipe for little mini pies. I call it "Lemon Curd Baby Bites" ! Need a fast little dessert to take to a bake sale, party or gathering? This is your go-to recipe! Seriously simple. seriously..
Original Recipe yields 4 Baby Bites
Ingredients:
1/2 of a 8.2oz jar of Lemon Curd
(I used Sticky Fingers Bakery version that I found at Marshalls
)
1 thawed ready-made pie crust
Vanilla sugar for dusting
Simple enough, right? Below are the steps..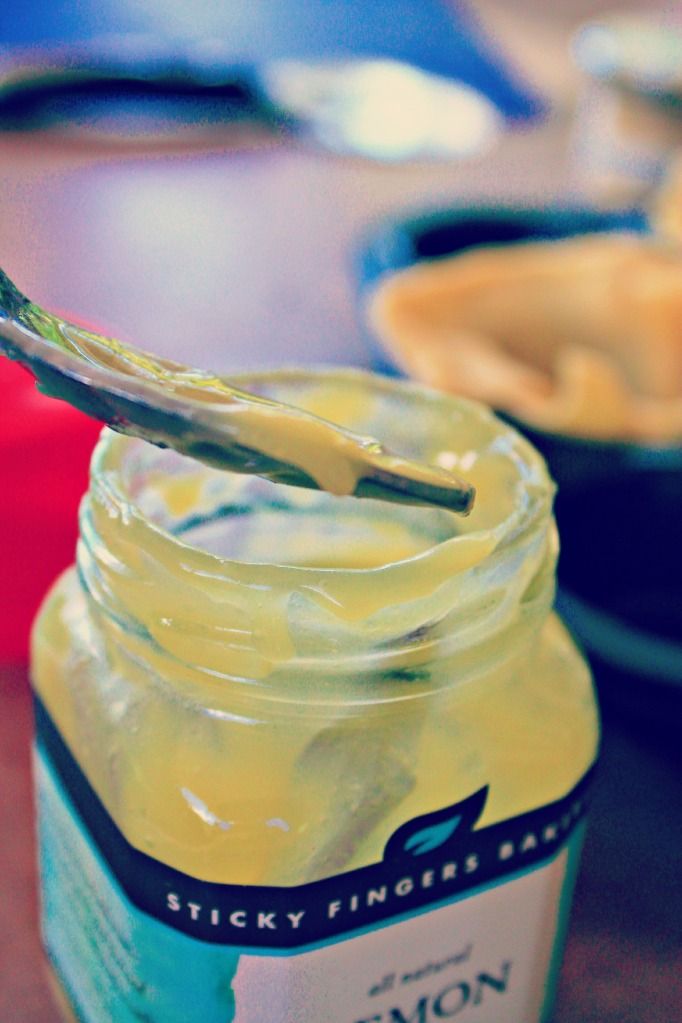 What to do:
1. Preheat your oven to ~300 F (I use a gas oven, so your temperature may need to be a little higher).
2. Roll out your ready made pie crust and slice into 4 equal pieces
3. Mold the center of each piece into greased individual cupcake placements in a cupcake pan. Leave the edges hanging
4. Spoon about 1/2 inch of lemon curd into each pie crust. Use the whole 1/2 of the jar, so keep adding curd wherever its needed.
5. Fold the edges of the crust into the middle so that it creates a little gathered middle (
as shown
).
6. Sprinkle some vanilla sugar on top (
this adds the sweet compliment to the tart lemon
)
Then bake in the oven for about 20 minutes, or until you notice the tops of the bites browning and the curd bubbling from the folds.
Timing will vary! I use a gas oven, so my baked goods tend to bake much faster than in a standard electric oven.
Occasionally check them around 18 minutes.
Once baked, remove from oven and place each bite on a wire rack to cool. I use a little pair of rubber tongs to help me get them out of the pan. You can also let them cool in the pan on the rack if you wish.
Lastly, sprinkle them again with a more liberal amount of vanilla sugar, so that the sugar dissolves into the curd that has bubbled out from the folds. Gotta add some more sweet, of course!
Enjoy these baby bites warm, coated with some vanilla ice cream -- or cooled and alone. I told you that was easy, right? Anyone can make these!!
Questions or comments? Just leave a little message here! Feel free to share this recipe and images on your own blog, but please just link back to me. Sharing is caring, but stealing is wrong. Thank you!